Horseradish Mustard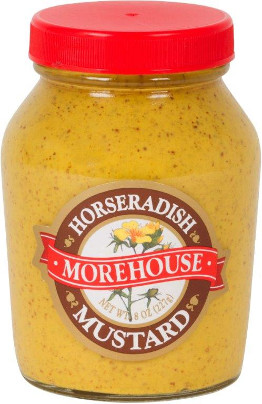 Artfully starting with premium mustard seeds blended with California horseradish and delectably seasoned with gourmet spices creates the tasty combination of hearty and bold. Satisfies on a sandwich and appetizes as a cooking ingredient. Creating this authentic mustard since 1898 using only traditional stone grinding methods.
Ingredients: Gluten-free distilled vinegar, Water, Mustard seeds, Sea salt, Horseradish, Turmeric, Spices, Natural flavor.
Nutrition Facts: Serving size 1 tsp/5g, Servings 45, Calories 0, Total fat 0%, Trans fat 0%, Sodium 65mg/3%, Total carb 0%, Protein 0g, – Daily Value based upon 2,000 calorie diet.
Benefits: Natural, Kosher, Gluten & GMO free, Vegan,
Non-allergenic plant
Comments:
"…really perks up a salad and I find myself making more sandwiches than ever before because I just love the stuff…" Jessica – Fairbanks, AK
"…it makes the best salad I have ever eaten…" Lawrence – Brantford, Canada
"…whenever my daughter has a party, she gets asked if there's going to be devilled eggs before they tell her they'll be there…" Barbara – Scottsdale, AZ
"…thank you for such a versatile mustard…" Rhonda – Miami, FL
Interesting:
Mustard seeds have no odor when crushed.
Dijon refers to a recipe and not the city or an area of France.
Mustard seeds are mentioned in Sanskrit writing as far back as 5,000 years.
Mustard seeds are mentioned in the New Testament when the kingdom of heaven is compared to a grain of mustard seed.
The father of medicine, Hippocrates, used mustard seed medicinally for general muscular relief.