Atomic Horseradish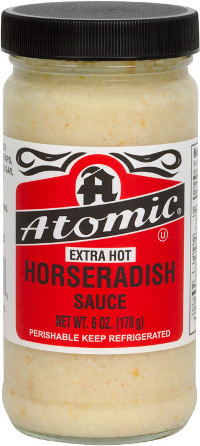 You might also like to try our XpeL All Natural Antacid. Guaranteed to work!
Aptly named over 45 years ago, Atomic Horseradish has served the hospitality industry using the same closely guarded recipe. It's the choice of exclusive hotels, resorts and national restaurant chains.  The exact, flavorful, extra hot horseradish is now available for your personal use.
Most people first discover Atomic in a nice restaurant, ask about it and Google it because Atomic Horseradish is not advertised!
The California horseradish is very, very hot. Parsnips are added to control its natural bitterness, resulting in extreme heat, mushrooming through your sinuses leaving you with the satisfying flavor of real horseradish that's as good if not better than your granddad's homemade that chased you out of the house when you were a kid.
Ingredients: Distilled vinegar, Water, Parsnips, Horseradish, Salt, Sugar, Artificial Flavoring
Nutrition Facts: Serving size 1 tsp/5g, Servings about 34, Calories 0, Total fat 0% DV, Sodium 60mg/3%, Total carb 0% DV, Protein 0% DV – Daily Value based upon 2,000 calorie diet.
Benefits: Freshly ground hot horseradish, Freshly ground parsnips, Gluten-Free, Kosher and Vegan
Comments:
"…the absolutely best hot horseradish I have ever had plus the fastest shipping ever…" Janis – Oakdale, MN
"…I was just amazed at how good this stuff was. I love hot and spicy food and this one gives it a run for the money..everyone who likes horseradish and hot food should try this!…" Dyer – Hudson, NH
"…if you like real horseradish, this is the one…nothing can touch it and I've tried them all…" Elissa – Fulton, NY
"…Atomic is the tastiest, hottest horseradish I've been able to find anywhere. You can add the smallest amount to any sauce without losing the effect…" Sunny – Northern, CA
"… I have tried to find a comparable horseradish but, everything I bought just had zero bite to it…Atomic is the very best…makes a great Bloody Mary…" Gail – York, PA
"…there's nothing else like it.. the purest, tastiest and hottest horseradish in the world..give it a try!…" Glenn – Chicago, IL
Interesting:
In German, it's called "meerrettich" (sea radish) because it grows by the sea. Many believe the English mispronounced the German word "meer" and began calling it "mareradish." Eventually it became known as horseradish.
In Britain, it was consumed only by country folk and laborers. By the late 1600s, horseradish was the standard accompaniment for beef and oysters among all Englishmen. The English, in fact, grew the pungent root at inns and coach stations, to make cordials for exhausted travelers.
Tulelake, California, is known as the Horseradish Capital of the World.
Collinsville, IL produces 60% of the world's horseradish roots and hosts the International Horseradish Festival every June.